Online Bill Pay
There's a better way to pay your bills. Automate your payments to save time and reduce your risk of fraud.
PA and NY Customers Can Pay Bills Online
Pay your bills* in minutes without postage and late fees.

All of your bills are consolidated for easy management.

Schedule bill payments so you never miss a due date.
*A monthly fee may apply depending upon your Checking account product.
---
Easier, smarter bill payments
Think of the time you spend writing out and mailing bills. Now you can get that time back by paying anyone or any company online using your Checking or Savings account. Pay utilities, cable bills, credit cards or people like your landlord or babysitter.
Make one-time payments or schedule recurring payments
Pay multiple bills simultaneously with a few clicks
Send money directly to an individual to pay an IOU or give a gift to a charity
Access your payment history for easy reconciliation
Reduce your paper use and clutter
See how you can simplify your life with our Online Bill Pay demo >>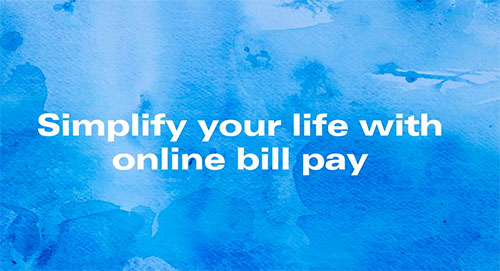 Get all of the details
Q: How do I enroll in Online Bill Pay?
A: You can enroll in three easy steps:
Access and log in to your account.
Use the "Bill Pay" link to access the enrollment form.
Complete the enrollment form and click submit.
Q: How do I start using Online Bill Pay?
A: First, you need to enroll to activate your Online Bill Pay account. If you haven't enrolled, please follow the three steps shown above. If you have enrolled, you can make a payment in four easy steps.
Grab a bill and log in to your account.
Click on the "Bill Pay" link.
Add your payee from the "Payees" tab.
Enter the amount you want paid and make your payment.
Q: How are online payments delivered?
A: Payments are sent one of two ways—electronically or by paper checks. The majority of payments are delivered electronically. Your payment information, such as your account number, is sent via secure transmission. All other payments are made by paper checks that are mailed via the U.S. Postal Service.
Q: Is it secure?
A: Paying bills online is one of the safest ways to pay your bills. Online Bill Pay helps guard against identity theft from lost or stolen checkbooks, bills and statements. It also increases your privacy because only you can access your account information, account numbers and payment history. As a result, you maintain tighter control of your account with real time access to your payments activity.
Q: How long does it take before my payment is received?
A: Generally, your payment is received within 2 to 7 days, depending on whether or not it is sent electronically or via paper check.
Q: How are the scheduled payments processed with Online Bill Pay?
A: Most scheduled payments are sent electronically and funds are withdrawn from your account on the process date.