Online Banking
Take your banking online and enjoy tremendous convenience. It's another way C&N meets your needs.
Digital Banking for PA and NY Customers
All of your account information is consolidated.

You can see current account transactions and access your purchase history.

Account information available 24/7

Log in from any computer and you're ready to go.

Everything you need to do requires just a few clicks.
---
Consider it your home branch
Online Banking delivers all of the convenience and smart digital tools you expect from C&N. Take care of numerous banking tasks and bank confidently knowing that your information is secured by multifactor authentication.
Transfer money between accounts
Enroll to take advantage of Mobile Banking and Text Banking**
View and print statements
Print copies of your checks
Enter stop payments
Reorder checks
Send Peer-2-Peer (P2P) payments
Apply for a loan/ open an account
Digital Banking System Requirements
*A monthly fee may apply depending upon your Checking account product.
*You may be charged access rates depending on your mobile phone carrier. Web access is needed to use Mobile Banking. Check with your service provider for details on specific fees and charges.
See the ease and convenience of Online Banking
Get Your Bank Account Statements and Notices Online
Wouldn't it be nice if your monthly Mortgage Loan Bill came electronically instead of through the PA and NY mail, or if you could receive quicker notifications when your personal loans or deposit accounts require attention? Sign up for e-Statements and control how you receive your statements and notifications.
Save time, paper and space with e-Statements& e-Notices!
By signing up for e-Statements, you will no longer receive paper copies of the items below in the mail. Instead, you'll receive an email notification when they are ready to view in your Online Banking. Simply sign in to view them instantly.
Available e-Statements and e-Notices
Notification of Insufficient Funds
Mortgage Loan Bills
Personal Loan Bills
HELOC Loan Notices
Loan Delinquency Bills
Loan Delinquency Notices
Notification of No-Bounce Loan Draw
Notification of Late Loan Payment
Notification of Late Charge on Loans
Mortgage Interest Rate Change
Annual Disclosure for Private Mortgage Insured Loans
Notice of overdraft privilege access with ATM/POS transaction
No Bounce Notice
Signing up for e-Statements is simple.
Login to your Online Banking.
Choose e-Delivery Preferences on the left.
Agree to receiving disclosure documents electronically.
Enter the email you want your alerts to be sent.
Accept the terms and submit.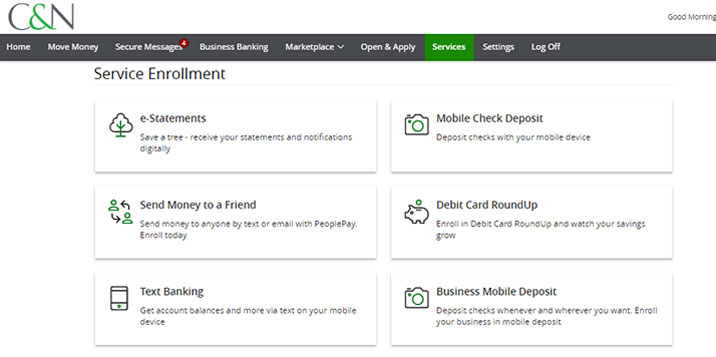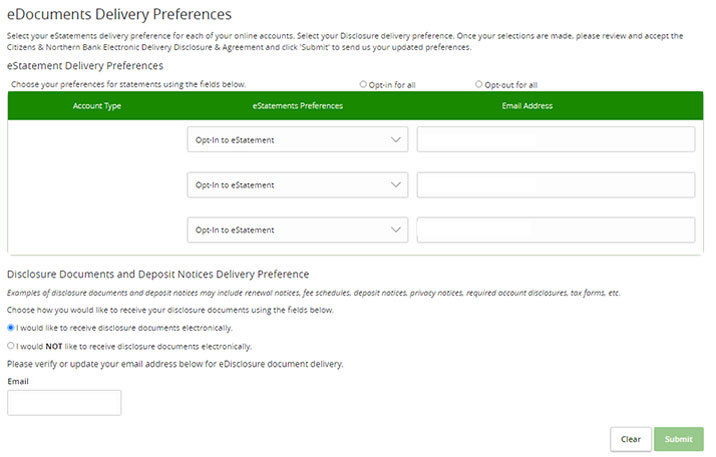 Note: Customers already enrolled in e-Statements for Checking and/or Savings accounts will be automatically enrolled to receive these notices.
Refer&Reward
Refer a friend to C&N and you'll both receive a special bonus: $50 for you, $50 for them!