C&N Simple Debit Account
A basic transaction account that gives you simple and affordable access to your money.
Just the Basics in PA and NY
C&N's Simple Debit Account is a simple, hassle-free checking account designed to give you exactly what you need.
---
Who is the C&N Simple Debit Account For?
C&N's Simple Debit Account is designed for those who may not qualify for a traditional checking account.

What you get
This deposit account gives you the basic, necessary features of a simple transaction account so you can affordably access and manage your money.
C&N Visa® Check Card - Make your purchases with our secure, contactless debit card ​
Check Free Account - No checks makes your account easier to manage
Free Access to C&N's Digital Banking - From a desktop or a mobile device using C&N's mobile app, you'll have 24/7 access to your accounts ​
No Overdraft Fees* - Only spend what you have without worrying about overdrawing your account
Direct Deposit - Get your payroll, Social Security or other recurring income checks deposited directly into your account

Certified by the CFE Fund
The C&N Simple Debit Account is a certified BankOn account through the CFE Fund (Cities for Financial Empowerment), which is a nonprofit organization that partners with municipalities to develop flexible and innovative projects to ensure everyone has access to affordable financial products and services.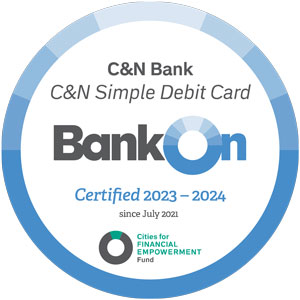 * If you do not have sufficient funds available in your account to cover a transaction, the transaction will be declined in most cases. In the case that your account is overdrawn, you will not be charged an overdraft fee.Certain transactions are not subject to decline. If any such transaction causes a negative balance, no overdraft fee will apply.
Refer&Reward
Refer a friend to C&N and you'll both receive a special bonus: $50 for you, $50 for them!