SavvyMoney®
C&N's SavvyMoney is your comprehensive credit tool that includes a full credit report and analysis, credit monitoring and personalized offers—all in one dashboard. Plus, it's free for our PA and NY customers!
Your All-Inclusive Credit Tool
Few things are as important to your financial wellbeing as your credit score. C&N's SavvyMoney will help you achieve and maintain good credit from the convenience of your C&N mobile banking app and online banking. Inside, you'll find a detailed analysis of your credit health and financial resources on how you can improve it.
---
Credit Score Analysis
The initial SavvyMoney screen gives you an overview of your credit score that contains your credit rating, a personalized grade for the main influences on your credit score and your credit score history.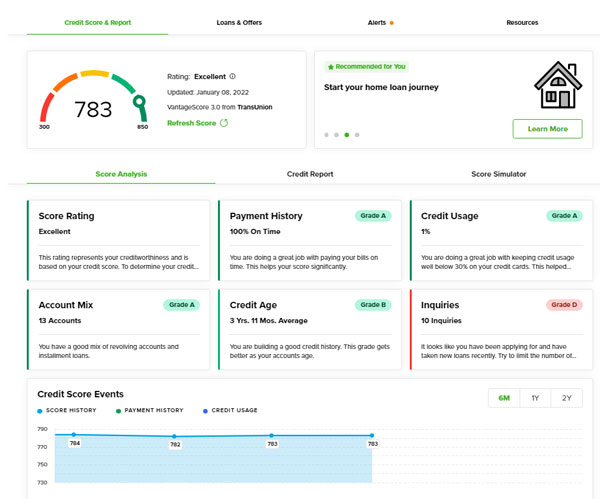 Credit Report
The credit score report screen contains a summary of your open credit accounts along with detailed information for each open account.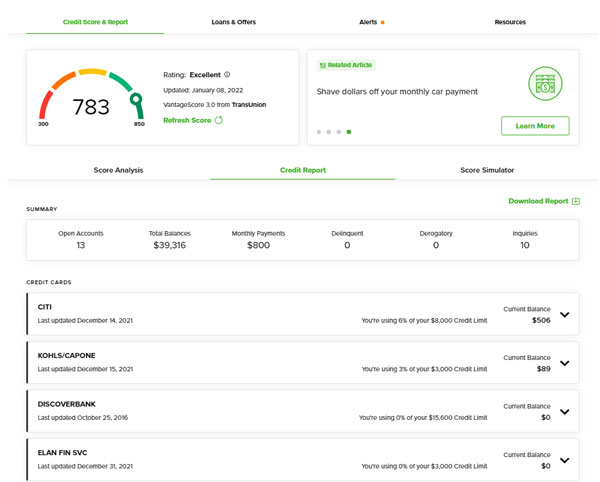 Credit Score Simulator
Are you wondering how your credit score might be impacted if you took out an auto loan or applied a payment to an open line of credit? Plug in the information and SavvyMoney will give you a simulated score to see how your credit score may be affected.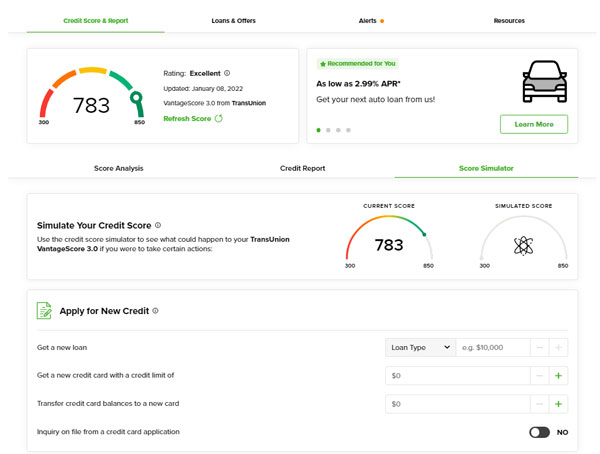 Loans & Offers
SavvyMoney matches you with offers and personal loans that are tailored to you based on your credit score and rating.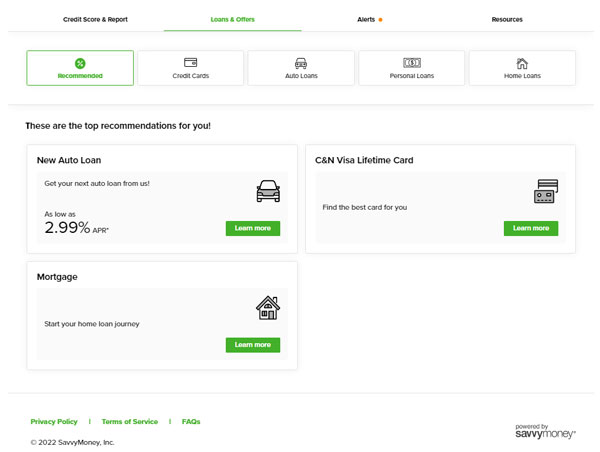 Loans subject to credit approval
Alerts
Here, you'll find recent events that have affected your credit score so you can keep a finger on the pulse of your credit score. You can also set up alerts to be sent to your email so you can be notified as they happen, which could save you from potential identity fraud.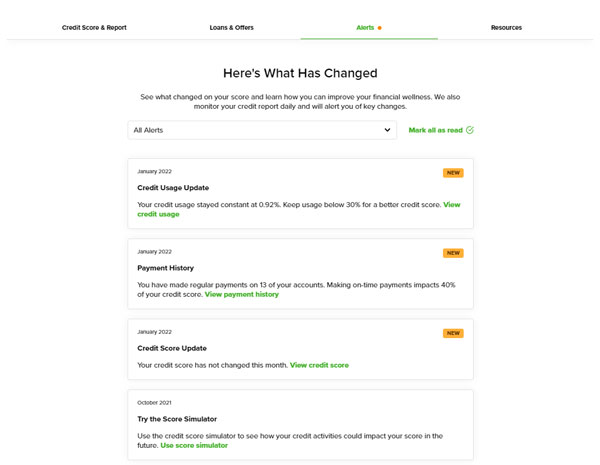 Resources
Do you need help understanding what credit is, what affects your credit and how to improve your credit score? If so, you're not alone. SavvyMoney is full of resources that will help you along your path to peak credit performance.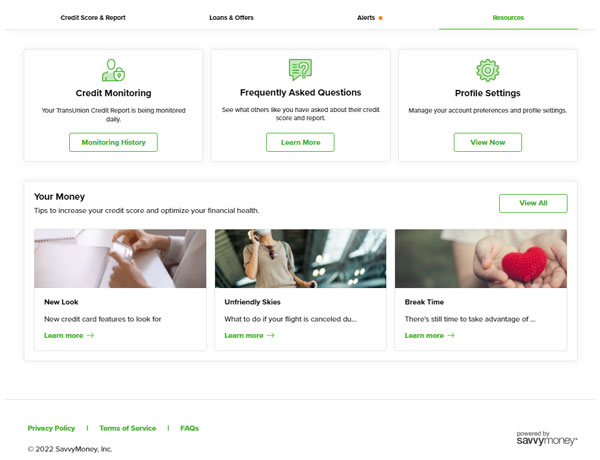 How to Enroll in Credit Monitoring
If you're interested in taking control of your credit, you can enroll in SavvyMoney right away from your C&N mobile banking app or online banking. The best part? It's free!
Step 1:
Login to C&N's online banking and locate SavvyMoney on the right-hand menu in the C&N mobile app, or on the right-hand side of your desktop Online Banking. Click on "Show My Score" to begin.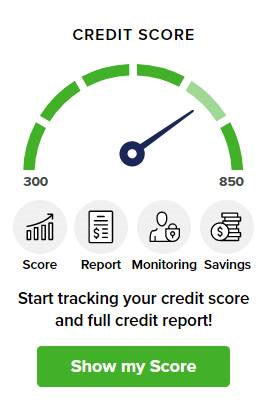 Step 2:
Agree to the terms of service and privacy policy of C&N's SavvyMoney.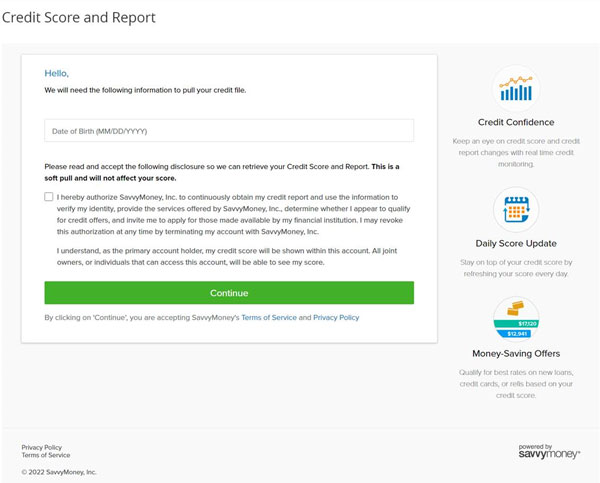 Step 3:
Answer a few verification questions to finalize the enrollment process.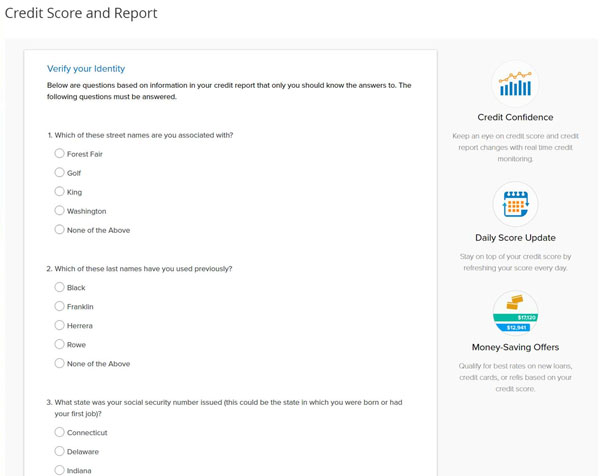 A credit score is a three-digit number calculated to indicate your credit worthiness. The higher the score, the more credit worthy you are to a lender. Credit score is calculated from information in your credit report and takes into account whether you have been making on-time monthly payments, your revolving debt use, length of your payment history, and other such factors. It is important to know that your credit score does not take your age, income, employment, marital status, or your bank account balances into account.
You can learn more about credit scores and scoring models from the Consumer Financial Consumer Financial Protection Bureau website.

Credit score reports, also known as credit files, are composed of the credit-related data a credit reporting company has gathered about consumers from different sources. Credit reports include records of mortgage payments, credit card balances, credit card payments, auto loan payments and credit inquiries. It may also include accounts that have gone into collections, public records, and other information from government sources.
Credit reports include the following about your debt accounts:
A list of companies that have given you credit or loans
The total amount for each loan or credit limit for each credit card
How often you paid your credit or loans on time, and the amount you have paid
Credit reports may also include:
Companies that, upon receiving a loan application from you, have seen your credit report to evaluate your credit worthiness in the last 2 years
Your address(es)
Your employers
Other details of public record
Under Federal law, you are entitled to receive one free copy of your credit report from each credit reporting agency every 12 months. You can obtain a free copy of your credit reports at https://www.annualcreditreport.com or by calling 1-877-322- 8228. For more information visit https://www.consumerfinance.gov/ask-cfpb/what-is-a-credit-report-en-309/.

The three national credit reporting agencies receive and manage literally billions of pieces of credit use data each year, reported from some 13,000 different sources.
Given this incredible volume of data provided by lenders to the agencies, there are times when the information reported about your credit activities may be inaccurate.
If you find information that you believe is not correct on your credit report, contact the company that issued the account or the credit reporting company that issued the report. You can dispute any inaccuracies found on your TransUnion credit report by navigating to the bottom of the SavvyMoney Credit Report and clicking "dispute".
For more information visit: http://www.consumerfinance.gov/askcfpb/313/what-should-i-look-for-in-my-credit-report-whatare-a-few-of-the-common-credit-report-errors.html

Any institution that lends money – credit unions, banks, credit card companies, financing companies, and mortgage lenders, just to name a few – can use a credit score to help them assess whether you meet their lending criteria. These institutions are likely to use your credit score along with other financial information unrelated to your credit score that they have obtained directly from you, such as whether you're working, your work history, your income, and your planned down payment. In general, borrowers with higher scores can get more credit, and at more competitive interest rates.
Lenders aren't the only ones who may use your credit score. Insurance carriers can use credit scores to help predict losses, and to accurately price homeowners and automobile insurance policies.

There are several ways to improve your credit score. But it's much more important to focus on improving what's in your credit report rather than obsessing over your credit score. Here is some general advice:
Pay your bills on time. How promptly you pay your bills has the strongest influence on your credit score.
Apply for credit only when you need it. Do not open too many accounts too frequently. And avoid opening multiple accounts within a short time span.
Keep your outstanding balances low. A good rule of thumb? Keep balances below 30 percent of the credit limit on each of your revolving accounts.
Reduce your total debt. It is not necessarily bad to owe some money. But it is not good to owe too much money. Consider paying down some of your outstanding debt.
Build up a credit history. Maintaining a timely payment history for a mix of accounts (e.g. credit cards, auto, mortgage) over a longer period can improve your score.

No, enrolling in C&N's SavvyMoney will have no impact on your Credit Score. C&N's SavvyMoney will pull your credit information for monitoring purposes, but it is not considered a direct inquiry and therefore will not have any affect on your score.

Yes, you will still be able to enroll in C&N's SavvyMoney.

C&N's SavvyMoney pulls from TransUnion®. If you have inquiries or disputes to file on your Credit Report, it is recommended that you check with the other credit reporting agencies individually for a comprehensive examination.

Refer&Reward
Refer a friend to C&N and you'll both receive a special bonus: $50 for you, $50 for them!