Easier Bill Pay for our PA & NY Neighbors
Using multiple sites and methods to pay bills means more logins to remember, more to keep track of, and more opportunities for payments to slip through the cracks.
Biller Direct changes everything. Not only can it handle all your bills in an easier, more intuitive interface, but it lets you make payments with your card in real time—so you know exactly when your bills are paid.
---
Adding a bill is easy!
Go to "Add a Bill" to bring up a list of companies that are compatible with Biller Direct. Choose the company you would like to add and login using the credentials for the account that you use for that biller.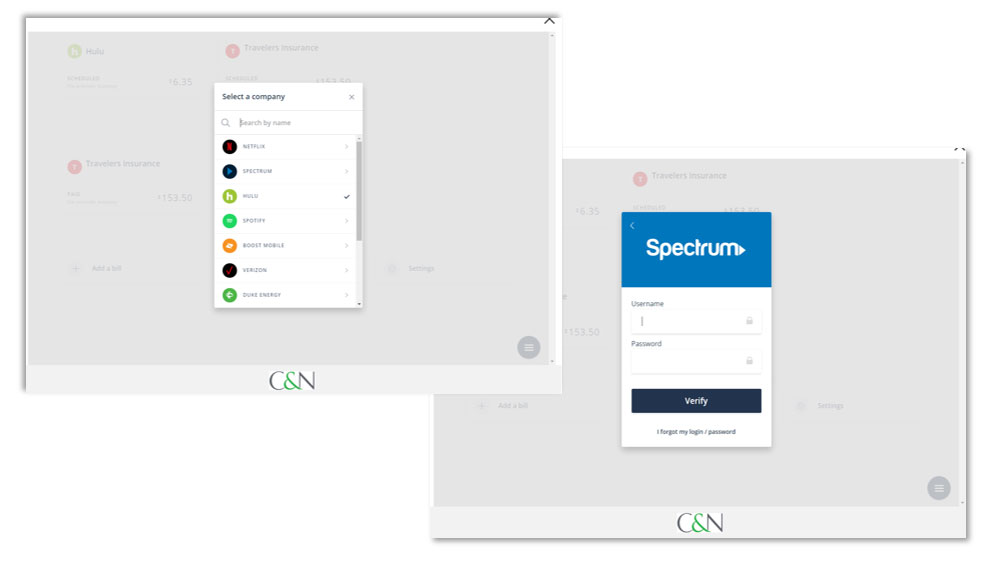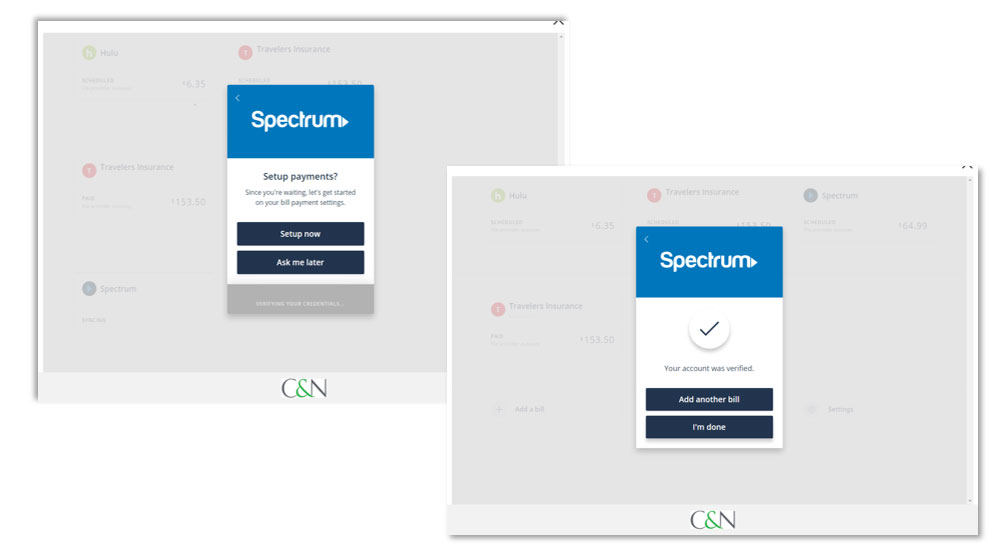 Manage your bills in one convenient location
Once your bills are set up, Biller Direct tracks everything for you to simplify your bill management. It will let you know if your payments need attention, when your bills are scheduled and give you a complete history for each biller.
Maybe it's easier for you to remember "Cable" instead of "Spectrum"? If so, add a custom label for your bill to make it easier to find. You can also turn on notifications so you never miss a thing!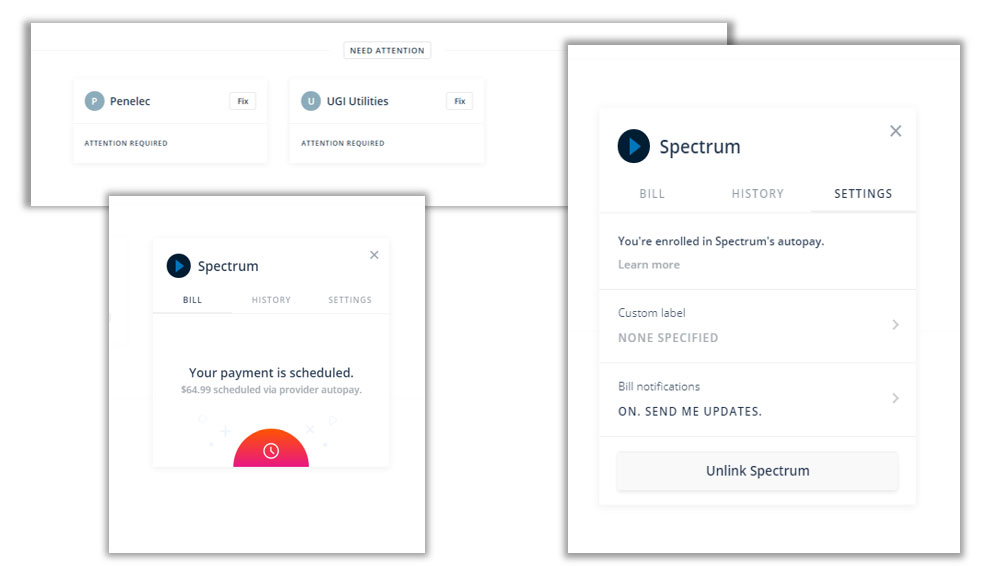 Keep track of your bills in real-time
Turn on notifications and get a text or email whenever a bill is ready to be paid or updated.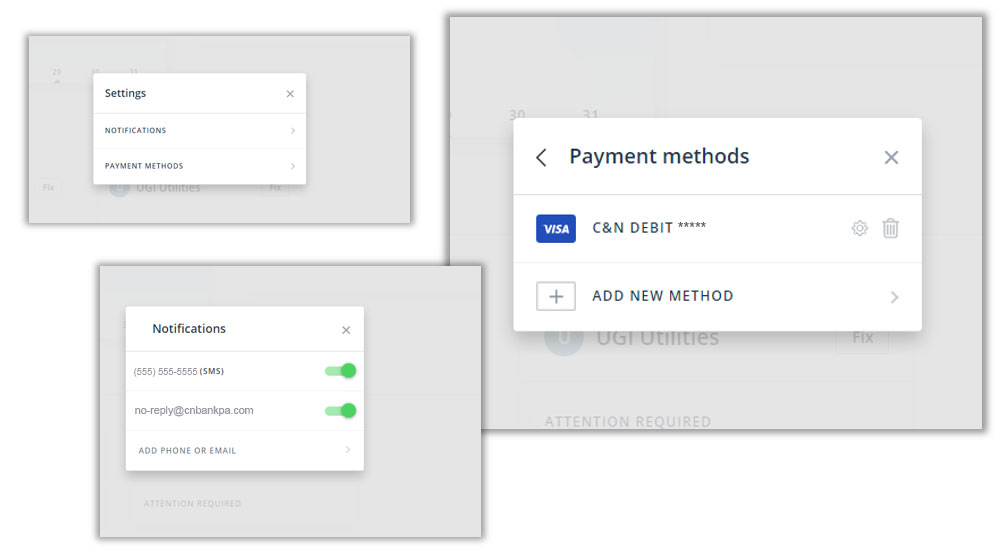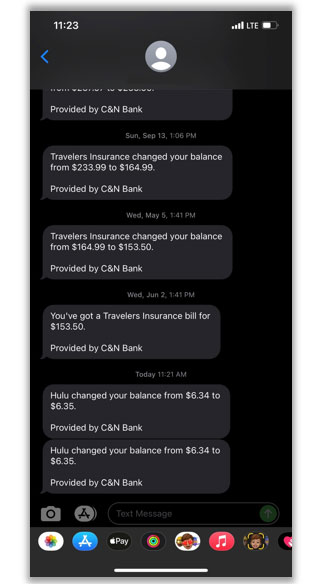 Much of the improvement users will see from Biller Direct is in its experience—it's a modern, intuitive experience, like consumers have come to expect from their favorite sites and apps. Payment options are flexible and easy to navigate. And, of course, it's a real-time experience. When a bill is paid via Biller Direct, there's no waiting and no uncertainty about how long it might take the payment to reconcile. Users can be confident that their payments are made when they want them to be made.
Biller Direct uses your C&N Debit Card. If funds are available in your account at the time of payment, your bill will be paid.
No. Biller Direct is the result of new development tools and isn't fully integrated into existing Bill Pay functionality. As a result, it is a separate feature, though still accessed through and integrated with Online Banking.
No. Because the former relies on ACH transfers and the other requires payment card information, users must enter the requisite payment information into Biller Direct's interface.
Biller Direct has a resource that is constantly monitoring error rates for logins. Once error rates hit a certain threshold they are surfaced as being problematic. At that point, a developer reviews the integration with the website and makes the necessary fixes. Biller Direct typically discovers biller website changes within 24 hours of them happening and can make the necessary fixes in a matter of minutes.
Biller Direct requires that the customer enter a payment that works with the biller they've linked. This often requires a customer to have multiple payment methods saved in Biller Direct.
Biller Direct has fulfilled the many requirements of PCI DDS compliance and has taken steps to ensure security.
Biller Direct scrapes data from all biller websites ensuring accuracy within 24 hours. This could lead to latency issues, but Biller Direct also verifies balance and due date prior to making the payment.