Pay Your Bills Online
However you pay your bills, we have you covered. Our bill paying solutions allow you to pay, manage and track your bills from the convenience of your C&N mobile app and digital banking.
PA and NY Customers Can Pay Bills Online
Pay your bills* in minutes without postage and late fees.

All of your bills are consolidated for easy management.

Schedule bill payments so you never miss a due date.
---
Biller Direct & Online Bill Pay
C&N offers two great ways to pay your bills online through your C&N mobile app or digital banking, each with its own distinct uses and features. Compare the options below so you know which service to use for each of your payments.

| | Biller Direct | Online Bill Pay |
| --- | --- | --- |
| Ability to send person-to-person payments (i.e. landlord or babysitter) | | |
| Sends payment as paper check or ACH from account | | |
| Supports recurring payment options | | |
| Requires online company credentials | | |
| Payment made using debit card | | |
| Ability to set up email or text notifications for payment updates | | |
| Payments made in real time | | |
| | | |
Biller Direct
Use Biller Direct for payments you make with your debit card on a company's website. Biller Direct links directly to participating biller websites, saving you from visiting multiple sites and using various logins. All your bills can be managed in an easier, more intuitive interface in real time so you know exactly when your bills are paid.
If you have C&N's mobile app or digital banking, you can get started immediately. Simply login, go to "Move Money" from the menu, find the "Payments" section and choose "Biller Direct."
As a C&N customer, Biller Direct is ready for you to add a bill and begin making payments right away!
Go to "Add a Bill" to bring up a list of companies that are compatible with Biller Direct. Choose the company you would like to add and login using the credentials for the account that you use for that biller.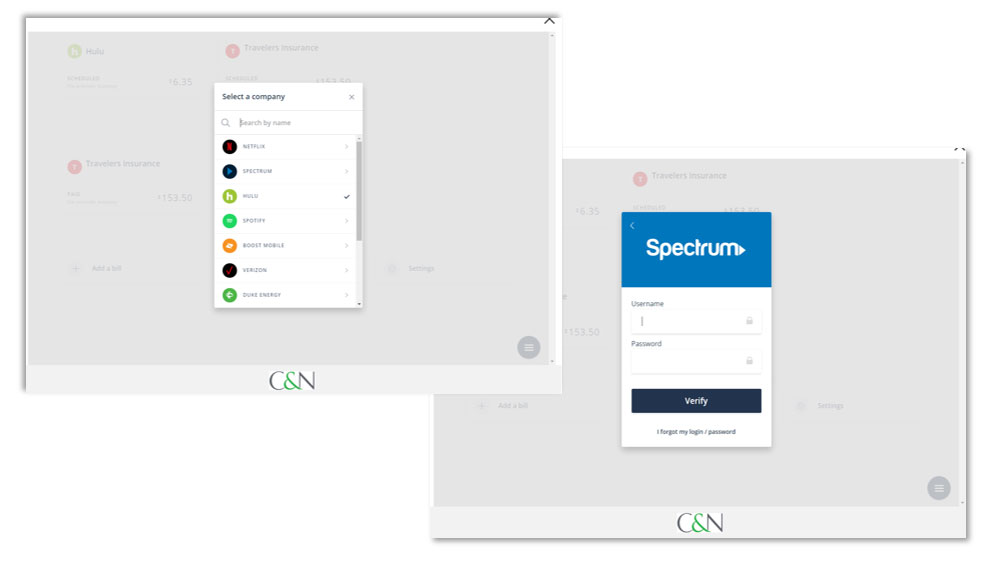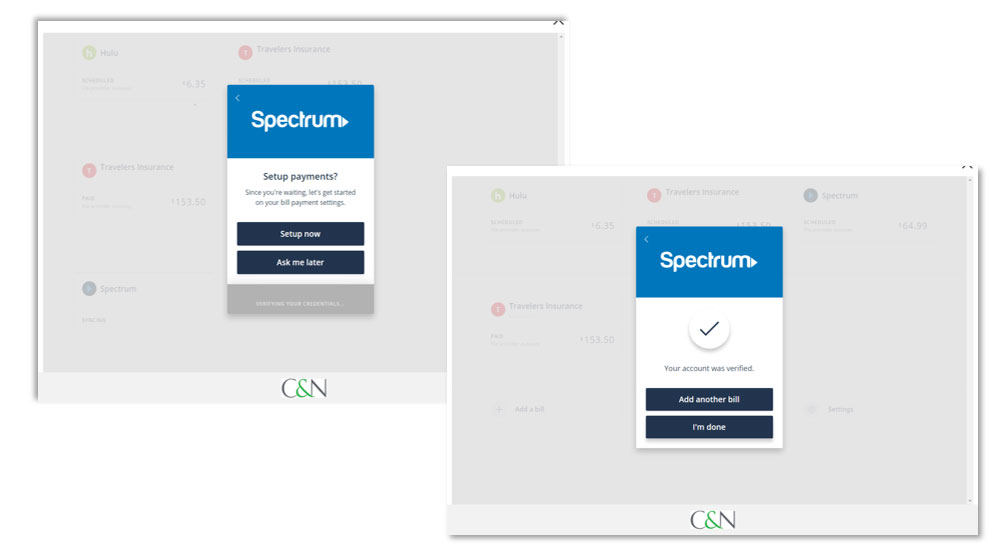 Once your bills are set up, Biller Direct tracks everything for you to simplify your bill management. It will let you know if your payments need attention, when your bills are scheduled and give you a complete history for each biller.
Maybe it's easier for you to remember "Cable" instead of your cable company name? If so, add a custom label for your bill to make it easier to find. You can also turn on notifications so you never miss a thing! If your biller changes your payment amount, Biller Direct will notify you so you're always aware of your bills down to the penny.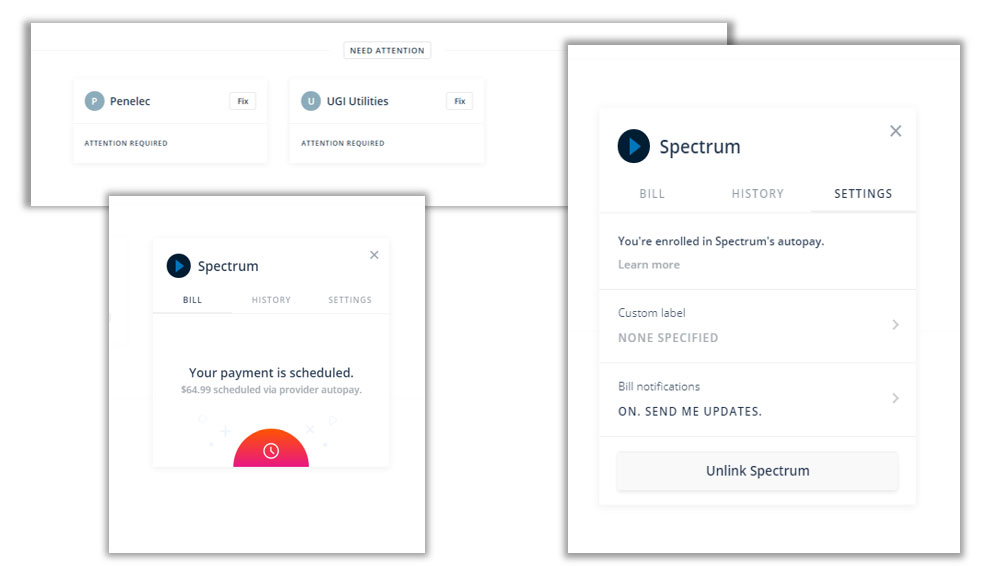 Turn on notifications and get a text or email whenever a bill is ready to be paid or updated.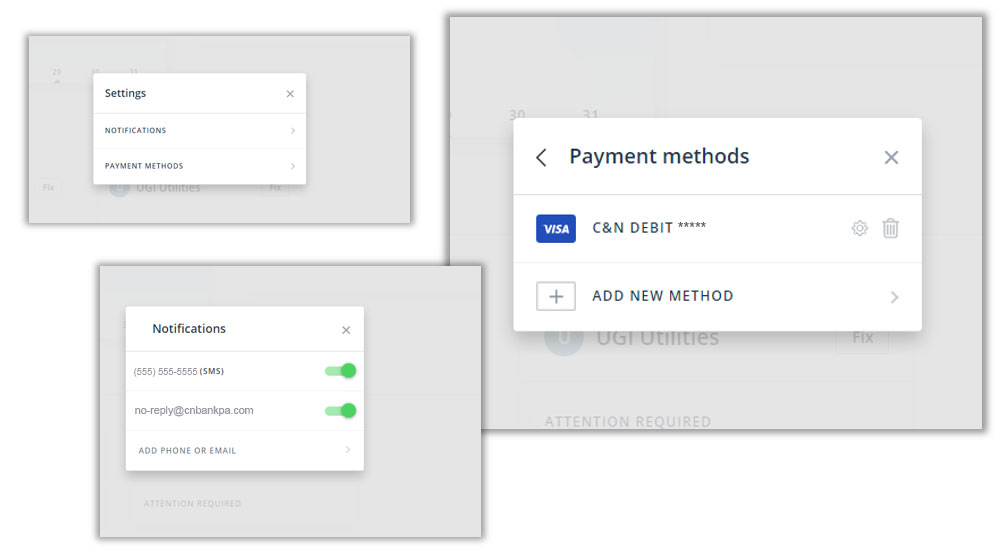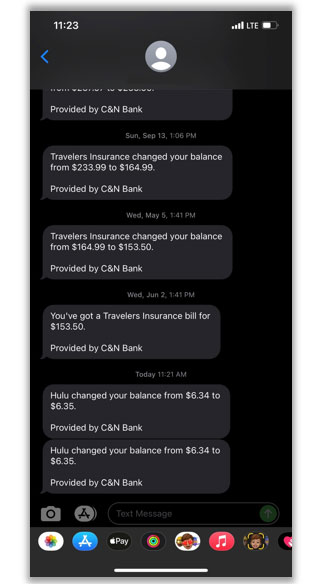 Online Bill Pay
Use Online Bill Pay to make payments to anyone or any company online using your Checking or Savings account. This is a great alternative to make payments when an online card isn't an option, such as an outside loan payment, local utilities or your landlord. Online Bill Pay saves you from the time and hassle it takes to write a check and buy stamps.
You can enroll in C&N's Online Bill Pay in three easy steps:
Access and log in to your account.
Use the "Bill Pay" link to access the enrollment form.
Complete the enrollment form and click submit.

Once you're enrolled, you can begin making payments by following these steps:
Grab a bill and log in to your account.
Click on the "Bill Pay" link.
Add your payee from the "Payees" tab.
Enter the amount you want paid and make your payment.

Q: Can I schedule payments or set up recurring payments?
A: Yes, inside the Bill Pay system, you can easily schedule them out to go at a certain time, or if the payment is a set amount, you can set it up to go at regular intervals, such as monthly or biweekly.
Q: How are online payments delivered?
A: Payments are sent one of two ways—electronically or by paper checks. The majority of payments are delivered electronically. Your payment information, such as your account number, is sent via secure transmission. All other payments are made by paper checks that are mailed via the U.S. Postal Service.
Q: Is it secure?
A: Paying bills online is one of the safest ways to pay your bills. Online Bill Pay helps guard against identity theft from lost or stolen checkbooks, bills and statements. It also increases your privacy because only you can access your account information, account numbers and payment history. As a result, you maintain tighter control of your account with real time access to your payments activity.
Q: How long does it take before my payment is received?
A: Generally, your payment is received within 2 to 7 days, depending on whether or not it is sent electronically or via paper check.
Q: How are the scheduled payments processed with Online Bill Pay?
A: Most scheduled payments are sent electronically and funds are withdrawn from your account on the process date.
*Online Bill Pay may incur a monthly fee depending upon your Checking account product.
Refer&Reward
Refer a friend to C&N and you'll both receive a special bonus: $50 for you, $50 for them!