An Elevated Digital Banking Experience
We're improving our digital banking navigation to make it easier for you to get where you need to go.
Improving the way you access your money
All of the great features and functionality that you've come to expect will stay the same, but our newest update will give you a more intuitive navigation with an improved layout and organization, taking the guess work out of accessing the tools you need.

You can expect to see these changes to your digital banking in the coming weeks.


Your New Digital Banking Screens
Whether you're looking to transfer funds, updated your password, or change your address, your new digital banking pages will guide you in the right direction.
Home Screen
From the Home Screen, you will have the same quick snapshot of your accounts as always. From this screen, you can still click and drag your accounts to order them in your preference, give your accounts nicknames for easier recognition, and click into each account to view your history.

The new top-navigation will provide you with easier access for browsing through the online banking features at your disposal.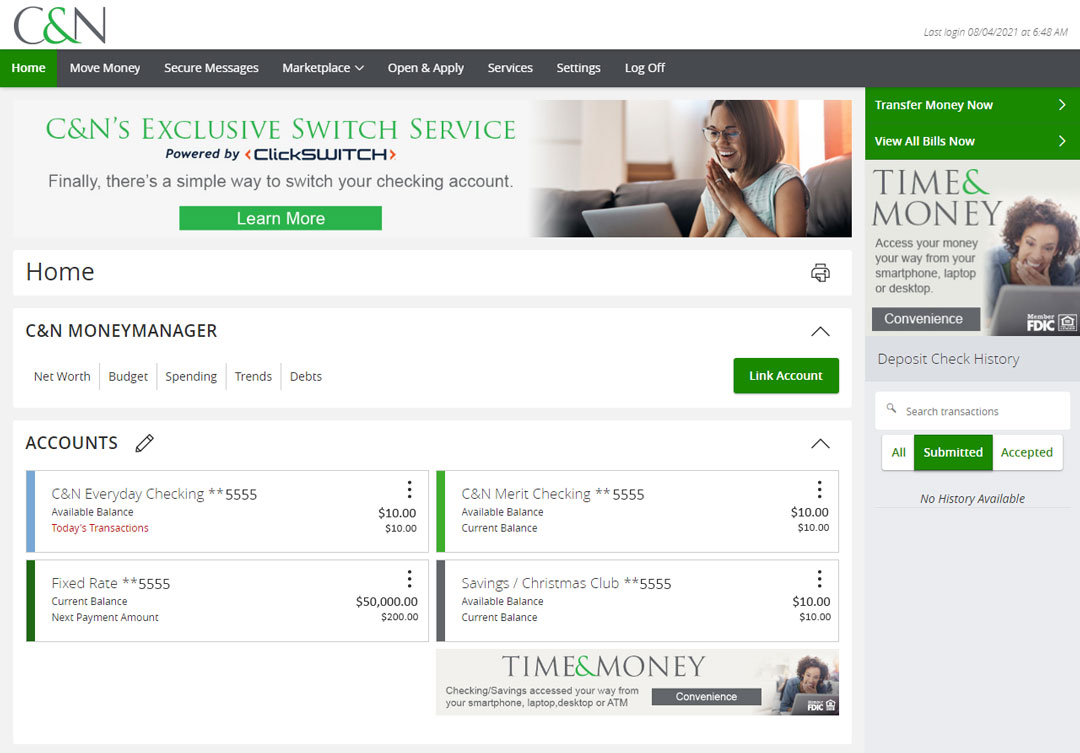 Move Money
The Move Money screen gives you an organized view of all the different ways you may need to move money, such as transfers between accounts, making payments and seeing what account holds and transactions are pending on your accounts.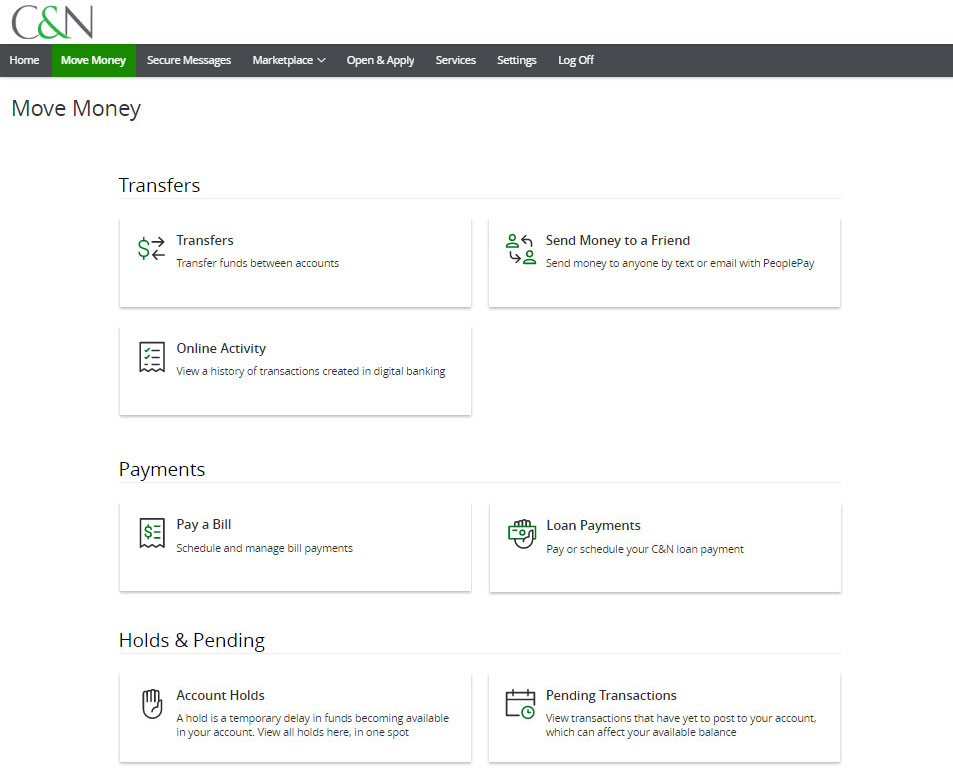 Open & Apply
The Open & Apply section provides you with fast access to the products and services that you can sign up for, including opening a new account, applying for a credit card, and applying for a mortgage.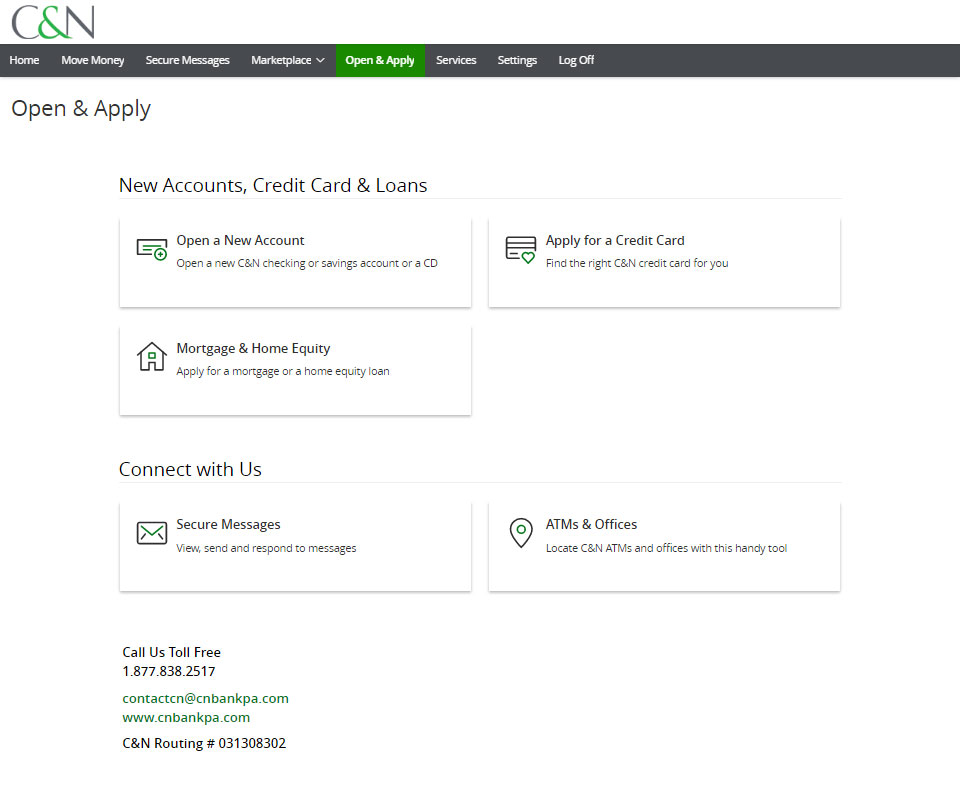 Services
The services screen shows all of the features in C&N's digital banking that will make your financial experiences easier. Your accounts services section gives you the ability to check your e-statements and notices, set up and edit alerts, make a stop payment on a check, order new checks, or view your online activity.

You can also manage your C&N cards by placing a travel notification if you'll be out of the area, access your uChoose credit card rewards, and manage your C&N credit card account.

Enrolling in any service that you aren't already using, such as e-statements, mobile check deposit, Debit Card RoundUp, C&N's Money Manager and Text Banking can also be done on this page. Just choose the service you want to get started!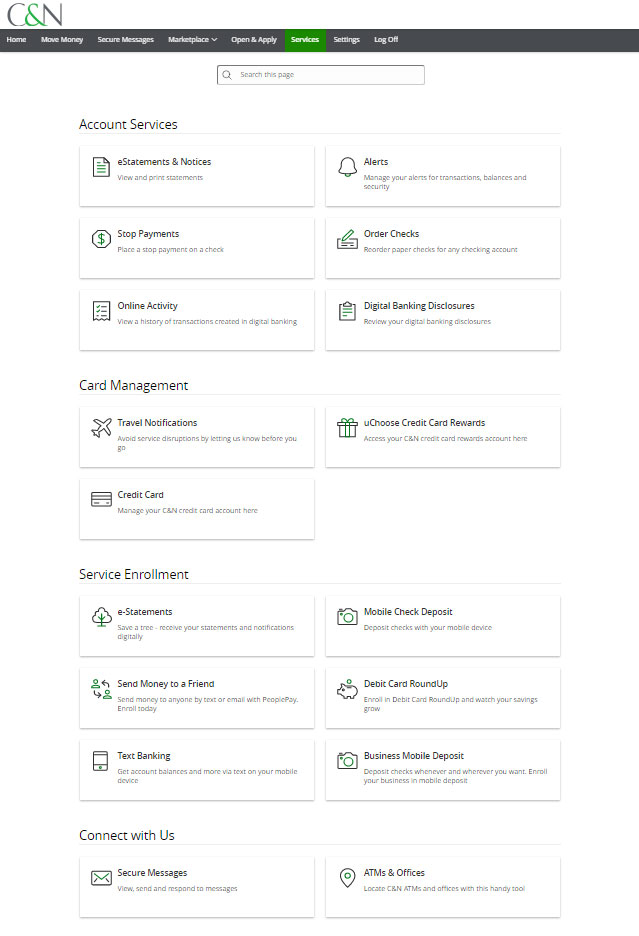 Settings
Settings gives you complete control over your C&N online banking. In Security section, you can set up alerts, set up your security preferences such as security notifications or change your password, apply travel notifications if you plan to be out of the area, or update your contact information such as your address or email.

Under preferences, you will also be able to change the nicknames of accounts for easier referencing, update your e-statement delivery, change your text banking number or change your accessibility preferences.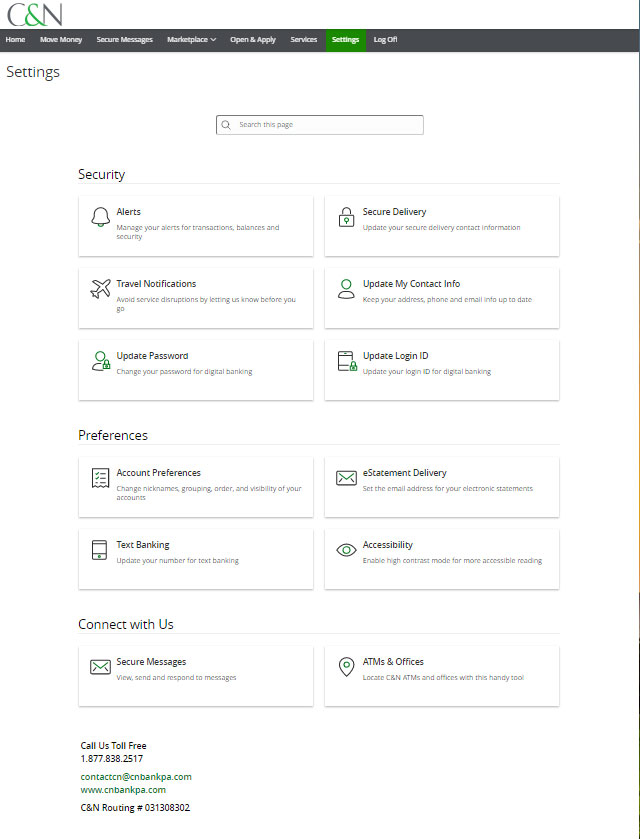 Business Banking
Those with a business banking account will find their business-related actions much easier to get to with our improved navigation. Everything you need to manage your business accounts are in one, easy to find location and organized in a more intuitive way.