Contactless Cards
Paying with your C&N Visa® Check Card is now easier, faster and more secure.
Contactless Debit Cards
Tap to pay for a fast, easy and secure way to checkout wherever you see the contactless symbol, including retail stores, coffee shops, grocery stores, restaurants, taxis and more!
---
Look, Tap & Go.
That's all it takes to use your new contactless C&N card.
Find the Contactless Pay symbol at checkout
Tap your new contactless card on the terminal
Your payment is processed in seconds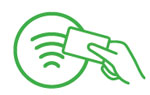 It's Fast.
Pay in seconds where you see the contactless symbol - faster than fumbling with cash.
It's Easy.
No need to insert or swipe your card. A simple tap on the contactless-enabled terminal is all it takes.
It's Secure.
Contactless cards use the same trusted security as chip cards. Each transaction is protected by a dynamic encryption that protects your payment information. And, without having to touch public terminals, you can keep your hand sanitizer in your pocket.

FAQs
What is a Contactless Card? Your contactless card uses short-range wireless technology to make secure payments between a contactless card and a contactless-enabled checkout terminal. When you tap near the contactless Symbol, your payment is sent for authorization.
Where can I use it? Retailers who accept payment will display the contactless symbol pictured below. Look out for it where ever you shop. You can still swipe or insert your Contactless Card at terminals that do not have a contactless option.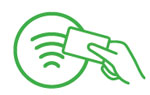 Is tapping to pay secure? Yes, absolutely. Your contactless card has the same secure encryption technology as your current contact only EMV chip card.
Can a purchase be made without my knowledge? For example: will the card reader activate if I walk past it? No. Your card has to be extremely close to the reader - typically between two and four centimeters and the retailer must have first entered the amount for you to approve.
Features You'll Love
Leave your wallet at home. Mobile Wallet payment links your card to compatible smartphones and devices. Your card will work with all major Mobile Pay Apps. Simply follow the instructions in the settings of your mobile phone or device to get started.
Online or in-person. Your new debit Visa® is accepted at millions of locations worldwide. Use your card to automatically pay monthly bills and make repeat purchases a snap by adding your debit card as the card on file at your favorite online shops and services.
Protection wherever you shop. Whether you use your card to shop online, by phone or in a store, every purchase is backed by Zero Liability protection1. That means you won't be held responsible in the event that someone makes unauthorized purchases with your card.
1 For specific restrictions, limitations and other details, see your card agreement or contact C&N.
The Contactless Symbol and Contactless Indicator are trademarks owned by and used with permission of EMVCo, LLC.
Refer&Reward
Refer a friend to C&N and you'll both receive a special bonus: $50 for you, $50 for them!