Ju$t For Kid$
Valuable money lessons are child's play. We make saving simple and fun with our Savings account for kids.
Savings Accounts for PA and NY Kids
Good financial habits start early for children 13 and under.

Deposit money from birthdays and special occasions to grow steadily.

All it takes is a $20 deposit and you're on your way.

Sammy Saver makes it fun to learn about money.
---
Sammy Saver's here to help
Children 13 and under can get their Savings accounts started with C&N and begin learning good habits that'll pay off for many years. Plus, it's all part of a fun experience with Sammy Saver.
To open a Ju$t for Kid$ Account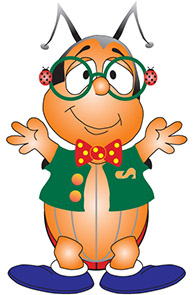 Accounts can be opened with consent from a parent or guardian
Social Security Number and birth certificate required to open the account
Includes a Sammy Saver T-shirt and a gift from Sammy.

Ju$t for Kids Club Perks
Birthday cards
Access to Ju$t for Kid$ Rewards Program
Subscription to semi-annual newsletter
Invitation to participate in exclusive events and activities
Graduation Certificate upon completion of program