400 Big Ones
You can earn a $400* bonus when you open a new C&N checking account.
Enjoy a new bank and a new bonus
Do you want $400? Of course you do, and C&N makes it easy thanks to our new promotion. Just open a new checking account online and meet a few basic requirements and, in addition to the outstanding service we're known for, you'll get an extra $400 on us.
---
Claiming your $400* bonus is simple. To receive it, all you have to do is:

1. Open a New Checking Account
You can earn up to a $300 bonus if opening the account in person or get an extra $100 when you open the account online.

2. Make an Initial Deposit of $1,000
Start your account with as little as $1,000 and you're all set.

3. Sign Up for Direct Deposit
Have your paycheck or other deposits made directly into your new account, totaling at least $5,000 within the first three months. Using ClickSwitch makes it easy for you to move those payments from your old bank to C&N with just a click.

4. Keep Your Account for 6 Months
Chances are, you'll be a client for life once you experience the expert local service C&N provides, but as long as your account is open for six months, you're eligible for your bonus.

That's all it takes to become a new C&N client and to claim your $400 bonus.
---
Bonus is limited to current C&N customers or those in the C&N market area as depicted below.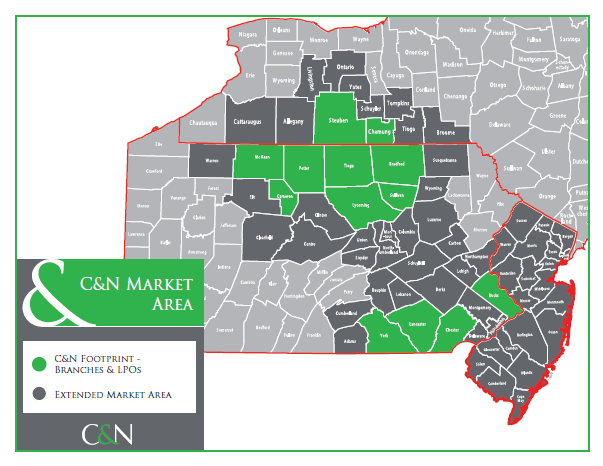 *Receive $300 Bonus when you open a consumer checking account with a minimum opening deposit of $1,000 and receive an additional $100 Bonus when you open the account online. Must be new money. Use promo code 400BONUS. Offer valid through September 30, 2022 for consumer checking account products only (C&N Everyday Checking, C&N Relationship Checking and C&N Merit Checking) and limited to one per primary account owner age 18 or older. C&N Merit Checking is a variable rate tiered interest-bearing account with an Annual Percentage Yield (APY) of 0.35% for qualifying accounts with collected balances of $.01 to $30,000, .10% APY for qualifying accounts with collected balances over $30,000 and .05% APY for non-qualifying accounts (refer to the Truth In Savings Disclosure for qualifying criteria). APYs accurate as of July 1, 2022. Fees may reduce earnings. Direct deposits totaling $5,000 over consecutive 3-month period required to receive Bonus. Account must remain open for six months from opening date. Payout will occur within 45 days of six-month anniversary of account opening. Payouts valid through May 31, 2023. Offer may be withdrawn at any time.