Press Releases
Want to know what's new with us? Here's where you'll find the latest news about events, services and much more.
11/05/2020
C&N Announces 2021 Calendar Contest Winners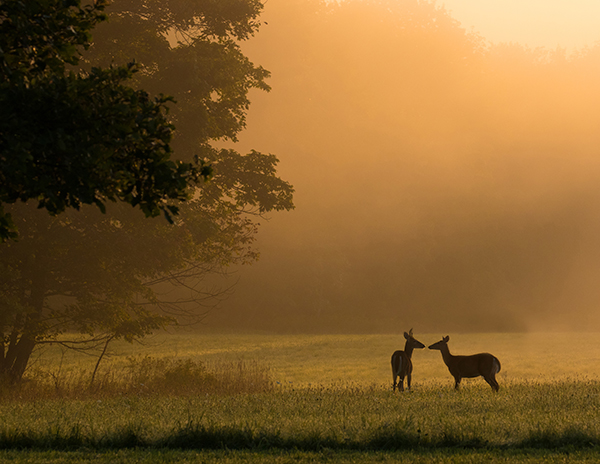 Ann Kamzelski of Wellsboro, PA grand prize winning
photo of a foggy morning with deer at their home in Wellsboro, PA.
WELLSBORO, PA – C&N's annual calendar photo contest has concluded with Ann Kamzelski of Wellsboro, PA earning the grand prize spot.
Each spring, C&N hosts their annual calendar photo contest for local amateur photographers. The winning photographs are featured in their upcoming calendar. In August, a panel of C&N employees selected 12 photos for the 2021 Wall Calendar, with all employees voting on the grand prize photo. "As always, there was a lot of competition. We received so many great submissions it made it difficult for our committee to decide on only 12. We really appreciate all the local photographers who decided to enter, and we look forward to all the submissions for 2022," said Charity Frantz, Marketing Director at C&N.
The winning photographers are awarded the first copies of the new calendar highlighting their winning photos, a $100 cash prize and other goodies. The grand prize winner also receives the coveted cover spot on the calendar, a large, framed copy of their photo and a $300 cash prize.
2021 winners and the month their photographs represent include:
January – Lois Housler of Kane, PA
February – Jacki Gormley of Wellsboro, PA
March – Lori Smith of Muncy Valley, PA
April – Tara Patterson of Liberty, PA
May – Erica Shirley of Painted Post, NY
June – Don Biresch of Ottsville, PA
July – Megan Hemling of Roaring Branch, PA
August – Linda Wilson of York, PA
September – Ann Kamzelski of Wellsboro, PA
October – John Blough of Altoona, PA
November – Patrick Greenabaum of Muncy, PA
December – Marcia Flanagan of Towanda, PA
There were 18,000 copies of this year's calendar printed, which are now available free of charge in all C&N offices. They usually go quickly, so stop in and pick one up today before they're gone!
We hope you enjoy your complimentary copy of our annual calendar. Please note that C&N does not profit from this calendar. The photos and descriptions included are the property of the photographers who submitted them. All dates and holidays are generated from time-and-date.com. C&N does not discriminate based on race, color, religion, national origin, sex, physical or mental disability, or age.