Press Releases
Want to know what's new with us? Here's where you'll find the latest news about events, services and much more.
11/03/2021
C&N Announces 2022 Calendar Contest Winners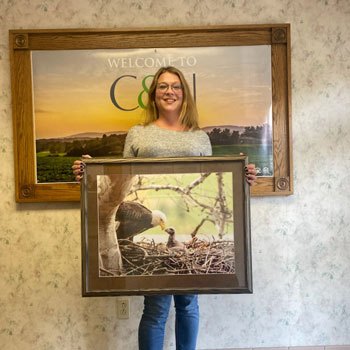 Erica Shirley of Painted Post, NY grand prize-winning photo of a nesting pair of eagles that had successfully produce offspring along the Susquehanna River in Bradford County.
WELLSBORO, PA – C&N's annual calendar photo contest has concluded with Erica Shirley of Painted Post, NY earning the grand prize spot.

Each spring, C&N hosts their annual calendar photo contest for local amateur photographers. The winning photographs are featured in their upcoming calendar. In August, a panel of C&N employees selected 12 photos for the 2022 Wall Calendar, with all employees voting on the grand prize photo. "As always, there was a lot of competition. We received so many great submissions it made it difficult for our committee to decide on only 12. We really appreciate all the local photographers who decided to enter, and we look forward to all the submissions for 2023," said Charity Frantz, Marketing Director at C&N.

The winning photographers are awarded the first copies of the new calendar highlighting their winning photos, a $100 cash prize and other goodies. The grand prize winner also receives the coveted cover sport on the calendar, a large, framed copy of their photo and a $300 cash prize.
2022 winners and the month their photographs represent include:
January – Jody Tice of Wellsboro, PA
February – Jeff Hoodak of Dushore, PA
March – Erica Shirley of Painted Post, NY
April – Sharon Tubbs of Athens, PA
May – Megan Hemling of Roaring Branch, PA
June – Linda Wilson of York, PA
July – Wade DeSantis of Troy, PA
August – Donna Sherwood of Dushore PA
September – Marlo Carl of Westfield, PA
October – Cathy Straub of Emporium, PA
November – Ann Kamzelski of Wellsboro, PA
December – Deb Young of Mansfield, PA
There were 18,000 copies of this year's calendar printed, which are now available free of charge in all C&N offices. They usually go quickly, so stop in and pick one up today before they're gone!